Nafiseh Moradi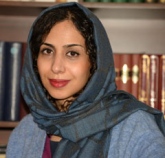 Visiting Doctoral Researcher
About me and my Research
My name is Nafiseh Moradi and I am a PhD candidate at the Alzahra University, Tehran, Iran. I was a Visiting Doctoral Researcher at Department of History in Stockholm University, during March to August 2016.
I am honoured to be advised by Hossein Sheiban, Associate Professor of History at the Department of History in University of Stockholm, for my doctoral thesis, entitled; Occidentalist and Postcolonial discourses analysis in Iranian novels and stories during 1960s to 1980s, and function of myth in these discourses.
In my research, I explore the image of west and westerners had in the Iranian context, and I am investigating the relation between Iran and west, through discourse analysis of Iranian novels and stories. My research interests are mostly shaped by Orientalism, Occidentalism, Postcolonial theories, novel critiques, Mythology, and Iranology. I have also been writing about these topics in some Iranian journals and newspapers since 2008.
Since 2013, I placed Occidentalism and Postcolonial studies at the center of my focus, and I have begun investigating the Iranian novels and short stories to find the ones written in Occidentalist and postcolonial discourses. I have done this investigation by using mainly Foucault's theories regarding discourse and power. Thus, my aim is to answer two fundamental questions: first, what is west in the eyes of Iranian novelists and writers?, and second, can we find any Iranian writer who was successful in writing out of occidentalist discourse, which has constructed on west/east binary, and find a way to postcolonial discourse?
Selected Publications and Lectures
Articles
"Karkard-e Ostureh dar Gofteman-e Pasa-este'mari-ye roman-e Irani" [Function of Myth in Postcolonial Discourse of Iranian Novels], in: Pazhuhesh-e zaban va adabiyat-e Farsi [Persian Literature and Language Researches Journal], 2015: Vol 37, Teheran/Iran, pp. 89-116.
"Dastur-e Zaban-e Farsi az Negah-e Mostashreghin" [Persian grammatics in the eyes of Orientalists], in: Majalleh-ye Farhangestan [Persian Academy Journal], 2014: Vol 9, Teheran/Iran, pp. 168-181.
"Borrowing of Persian words into Arabic language and its influence on Arabic literature and language", in: International Journal of Language Studies, 2013: Vol 7, Massachusetts/USA, pp. 143–153.
Lectures and seminars
"Investigating Postcolonial discourse characteristics in Iranian Novels and Short stories By analyzing Dandil (by Gholamhossein Saedi, published 1966), Raz ha-ye Sarzamin-e man [The mysteries of my land] (by Reza Barahani, published 1987), Ahl-e Qargh [The Drowned] (by Moniru Ravanipor, published 1989)", in: Department of History, Stockholm University/Sweden (23 August, 2016).
"Investigating the Postcolonial Features in Iranian short stories", in: Department of Asian, Middle Eastern and Turkish Studies, Stockholm University/Sweden (14 June 2016).
"Postcolonial and Occidentalist Features in Modern Persian Fiction (1960s to 1980s), Case Study: Dandil by Gholamhosein Saedi (1966)", in: Department of Linguistics and Philology, Uppsala University/Sweden (17 May 2016).
"Representation of Iran in two Travelogues: Comparative Discourse Analysis of Passenger to Tehran (by V. Sackville-West) and Archeologue Malgre Moi (by Tania Ghirshman) based on Foucault's power theory", in: Orient in Literature- Literature of the Orient Sources & Inspirations Conference, Nicolaus Copernicus University in Torun/Poland (17–18 March 2016).
"The Function of Myth in Persian Novel's Postcolonial Discourse", in: WOCMES 2014-World Congress for Middle East Studies, METU, Ankara/Turkey (18–22 August 2014).
Senast uppdaterad: 15 juni 2017
Webbredaktör: Anders Ståhlberg
Sidansvarig: Historiska institutionen