Call for papers and workshops/presentations
Deadline for CFP 15 February 2021. Notification of acceptance: March 10, 2021. Deadline for submitting paper is July 15, 2021.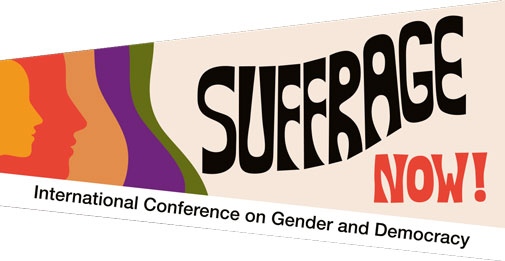 This conference commemorates the centennial of the introduction of universal and equal suffrage in Sweden. The aim is to initiate and present research on the introduction of women's suffrage and its consequences in a comparative and global perspective. Our goal is to bring together scholars from a variety of disciplines and countries in order to share expertise and experiences and engage in a critical dialogue on women's suffrage, gender and democracy.
The conference is organized around the following themes:
The actors: This theme revolves around the role of actors— the visions, strategies and transnational interactions of the suffrage movements. Alliances and conflicts. We welcome papers on historical analyses, as well as papers focused on contemporary social and political movements for political inclusion, representation and democracy processes.
The institutions: This theme engages with the institutional and historical context of suffrage, for instance nationalism, war and new institutions. We welcome papers focused on the limitations and constraints to universal suffrage. We also welcome papers exploring the contemporary challenges to democracy and political representation from a gender or intersectional perspective.
Culture, discourses and morality: This theme focuses on the manifestations of the struggle for suffrage through culture and discourse, for instance affections, songs and posters, bodies and dress code. Narratives and contested celebrations. We also welcome papers that engages with moral dimensions of suffrage such as suffrage and morality, religious movements, temperance and nationalism.
The state of the research today, both Swedish and international, offers good possibilities for developing insightful comparisons and renewed theoretical perspectives on suffrage and democracy. Initially, research often focused on women's suffrage in single countries, usually the scholar's own country. The number of countries and the geographical span of the countries was quite limited. Over the years, the countries analysed have multiplied and become global in scope, offering new possibilities to critique and enrich analytical frameworks.
Proposals
Papers and poster presentations:
Please submit the abstract (max 300 words) of your paper or poster presentation, plus a short biography, no later than February 15, 2021.
Workshops:
If you wish to propose a workshop, please contact the conference organizers.
The proposals should be submitted by e-mail to:
Kirsti Niskanen, kirsti.niskanen@historia.su.se (theme 1),
Drude Dahlerup, drude.dahlerup@statsvet.su.se (theme 2)
Christina Florin, christina.florin@historia.su.se (theme 3)
Notification of acceptance will be given by March 10, 2021.
Deadline for submitting your paper (5000-7000 words) is July 15, 2021.
Power point presentations, videos and poster presentations are welcome.
Conference
Date: August 13-14, 2021 Venue: Stockholm University
Senast uppdaterad: 21 september 2020
Webbredaktör: Anders Ståhlberg
Sidansvarig: Historiska institutionen